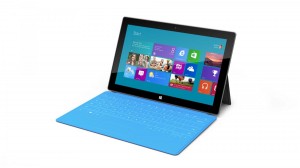 Tablets have been in high demand over the past year with nearly every company having their hands in tablet computing in one way or another. As to late, Microsoft has only really been talking about how their new OS Windows 8 will be touch screen friendly, and there have been many other hardware companies who support this movement. Many ultrabooks also are featuring full touch screens in the wake of this movement. Now, Microsoft has announced their first consumer tablet computer and it looks pretty sexy. The first question that came to my mind is, will they be powerful?
Well lets talk about specs. The Surface for Windows 8 Pro will weigh in at 903 grams and measure 13.5mm thick. Powered by a third generation Intel Core ivy bridge processor this will be a ultrabook class tablet and will also have a 10.6″ ClearType Full HD Display protected by Corning Gorilla Glass. Windows Pro 8 will be fitted with a microSDXC slot, USB 3.0 connection, Mini DisplayPort Video and the 2×2 MIMO antennae. The Pro will come in two flavours; either 64gb or 128gb SSD storage. It will ship equipped with a touch cover that has an integrated keyboard, VaporMG case and integrated stand. It has been reported Microsoft will have a price point that is in the same range as most other mainstream tablets and Intel ultrabooks but no official statement will been made till we get closer to release date.
It has been confirmed there will be a Netflix app available at launch. Not much talk about how the mobile phone platform will integrate with their new platform but with the way Apple and BlackBerry have been providing a Cloud based, accessible anywhere type of experience, it would be foolish for Microsoft to not do something similar. Perhaps not at launch but even the simple flexibility to aync or send SMS messages from your tablet should eventually come in my opinion.
http://youtu.be/dpzu3HM2CIo