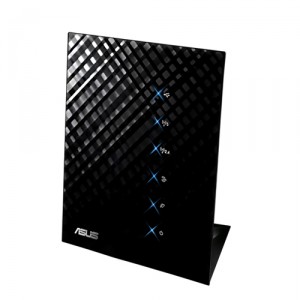 I haven't had a chance to use this router very long but already I see a huge downfall in the DHCP reservation and port forwarding. Some of the biggest things I liked about my D-Link is that I didn't have to type in very much. More drop down menus could improve the efficiency of a lot of options. Host name resolution on more pages would be useful too. Sorry Asus, but I'm not that badass enough to recognize my mac address in the list of 15 other devices…
On the positive side the router performs great under heavy load and with multiple devices. The QOS engine seems efficient and works well. The bandwidth monitor application is not only very neat and useful but graphically pleasing too. The device itself is susceptible to fingerprints and smudges but when its clean and left alone the lights are a great eye catcher and totally a device to be shown off. The cables out the back can be a bit of an eye sore if you are like me and have ethernet cables of every colour and length, running in every direction.
Wifi performance has been great. Despite it not having any external antennas, the 2.4 GHz band is able to reach the full apartment with strong signal even through several concrete walls. 5GHz isn't perfect but has a far reach compatibly to other 5GHz devices.
Reboot times range from 5-10 seconds and 60 for a full reboot. Firmware updates take about 3 minutes, however no network traffic is impacted for the first 2 minutes. Overall I give the device an 8/10. It performs great and looks sexy, but some of the UI could have easily been improved to help administrative efficiency A LOT. A few strange failures randomly occurred but it seems they are still releasing firmware fixes on a fairly regular basis. Though I would like to be as objective as possible, comparability, every D-Link device I have used has a far more user friendly interface; not only dummy proof but efficient for any network admin.