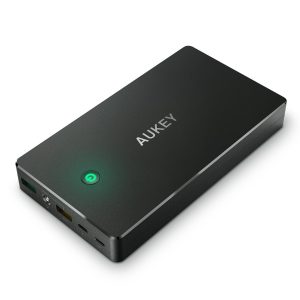 AUKEY 20000mAh Portable Charger External Battery Power Bank
I spent a great deal of time debating between various sizes brands and form factors. To give you a bit of a tour of the hardware, this model features 2 powered quick charge USB ports at 2.4 amps each, one charging micro USB port and one charging thunderbolt port. The powered USB ports will go to sleep if not being used and need to be activated using the power button on the top. This button is illuminated with a 3 colour LED which serves as the indicator for remaining capacity. If you hold the power button it will turn the LED flashlight on or off. It's not super powerful but it will do in a pinch and given the capacity of this battery, the light could stay on for a very, very long time. AUKEY took the cake for three big reasons.
Firstly, the size of this power bank is roughly the same height and width as my phone, the Samsung S7 Edge. This makes it feel comfortable in my pocket if I have to charge the device on the go. It's not overly thick, but will add a bit of bulk to your pocket. Heavy but that's to be expected with such a huge storage capacity. Which brings me to my next point.
Capacity is critical with a battery bank. For me, while I'm at a convention I just want to be able to go. I was able to keep my device and several others fully charged for a full day. This battery is a total work horse. My only grievance was that sometimes once a device was fully charged the USB port would go to sleep and stop powering the device. I find the threshold for this sleep setting is not very sensitive and takes a great deal of draw before the battery bank will stay awake. For example: this WILL NOT charge a Fitbit HR simply because the Fitbit does not draw a high amount of power during charge. If the ports were more sensitive they would detect the very low current draw from the Fitbit and be able to charge, likewise it would be able to continue to power a cell phone after it reaches 100% and switches to a plugged in state instead of charging.
Moving to form factor, this device looks great! It has the look and feel of a rugged power house.The ports are placed in spots that make sense and everything feels sturdy and well made. A very professional look and feel. It's weight will likely make it very susceptible to damage from a drop or tumble, but after a lot of use I haven't found any issues.