May 2, 2017 in Kwappy Weviews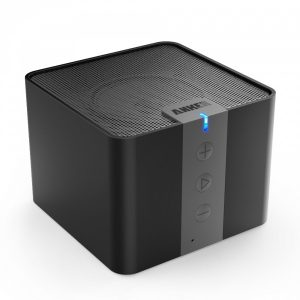 If you use services like Spotify or Google Music, or simply have a massive SD card in your phone, you likely keep a lot of music which is sometimes awkward to play when entertaining. Your phone speaker is awful and not everything that sounds good in your house or car may support bluetooth connections. Aux cables can be clumsy and besides, what year is it? Anker® A7908 Portable Bluetooth 4.0 Speaker with Super-Sized 4W Driver has been such a great addition to my travel bag.
Moving around the device there are only 3 buttons which serve as volume and play/pause. There is unfortunately no way to skip to a different song. I looked at many devices that supported this but the benefits of this outweighed that feature. An LED indicator which is for Bluetooth connection status and low battery indicator. Around the back is an on off hard switch, AUX in port and micro USB port for charging, as well as an additional LED indicator for charge status.
There are definitely a lot of thins done right with this device and I'll start with my favourite. Read the rest of this entry →